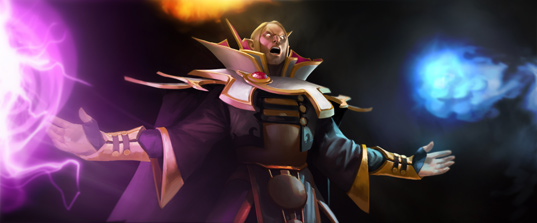 I was never an Invoker player. Something about constantly having to bring up his spell list and, frankly, a lack of real interest just kept me from learning him in any serious capacity. I could cast a couple spells, but for the most part I was just a bumbling fool, awkwardly trying to punch in commands with what felt like hooves. I miskeyed everything. I don't know if I'm just more dexterous now or if the world of keyboard has changed so much, but I'm really interested in picking up Invoker.
I know, I know. Everyone and his mother plays Invoker. It's for good reason, though. Invoker is an insanely strong character, and by insanely strong I mean overpowered. His utility cannot be matched and he performs equally well on offense and defense. He's also extremely mobile, has huge lane presence, excellent health regen, and a variety of AoE crowd control skills. Yeah, he's a little strong, and naturally I want to play him.
The best I can describe Invoker to anyone who hasn't played DotA is that he's like a game of Magicka within a MOBA. He requires the player to input combos for spells which are then "invoked" to be selected. At any given time, Invoker can have two skills queued up. Each skill has its own cooldown, so once cast, he can switch to invoke another spell, cycling through as often as necessary. Once he has a decent item farm, his only limitations are the cooldown of his invoke power and the cooldowns of each of his spells.
He also diverges from the standard stat system by employing three orbs that he can change to affect his stats. Quas, his first stat, gives him health regen and bonus strength. Wex, his second stat, gives him attack speed, move speed, and bonus agility. Exort, his third stat, gives him damage and bonus intelligence. The stat bonuses are permanent, but the qualities he gains from each orb vary depending on what he has active at the time. It's a crazy system that ends up playing very dynamically on the field.
I'm having an absolute blast learning how to play him – kind of reminds me of the first time Shaco really clicked for me in League.